What can you eat healthy for lunch? Having a healthy lunch is as important for us as having a healthy breakfast. While working in the morning till afternoon, our body's energy starts decreasing, we can eat good nutritious food in our lunch, this will satisfy our hunger and our body will also get energy. You must include protein, and carbs along with healthy fat and fiber in your lunch.
Healthy foods you can have for lunch –
Healthy Berry Fruit Bowl
Ingredients
Healthy berry fruit bowl
ingredients for 2 servings
400g of natural yogurt
100g of raspberries
100g of blackberries
100g of blueberries
50g of mango
2 tablespoons of coconut flakes and a handful of almonds
Preparation
Put half of the raspberries, blackberries, blueberries, and all of the yogurt into a blender and make a smooth puree.
Add the puree into two bowls.
Use berries, mango, coconut flakes, and almonds to decorate the bowls.
This healthy diet is ready.
Avocado Bread with Poached Egg
Ingredients
1/2 Avocado
2 slice bread
salt and black pepper
Preparation
Mash the avocado to the desired chunkiness. Sprinkle half a teaspoon of lemon juice over it. 1/2 tsp salt and 1/4 tsp ground black pepper, and mix them.
Put some butter in a pan and break an egg into it. Now cook it on low flame for 4-5 minutes and put it on a plate.
Apply the avocado mixture to a slice of bread and keep the fried egg instead.
You can also add sprouts to increase the protein content. You can eat it for breakfast as well as for lunch.
Quinoa Salad
Ingredients
200g Quinoa (1cup)
2 cups water
200g Cherry Tomatoes
1 Lemon
Preparation
Put 2 cups of quinoa in 2 cups of water and boil it for 15-20 minutes, then take it off.
Now put a medium-sized onion, 1/2 cucumber, 200g cherry tomatoes, and 1 avocado in it after cutting them well.
Add the juice of one lemon and 4 tbsp olive oil and mix it well by adding salt as per taste.
The Quinoa salad is ready.
Steak+Greeksalad
Ingredients
6 oz Sirloin Steak
2 cups spinach
1/2 cup Onion
1/4 cup Tomato
1 cup Cucumber
1 tbsp Red Wine vinegar
1tbsp Lemon Squeeze
1/2 oz Feta cheese
5 Olives
Preparation
Put a little butter in a pan and add 4 cups of chopped onions and sirloin steak and cook it on a low flame for 10 minutes. Add some salt and black pepper to it for flavor.
Cut the spinach, cherry tomatoes, and cucumber and keep them on a plate. Now put 5 olives, sprinkle a spoonful of red wine vinegar and lemon juice in it, and now garnish with feta cheese.
Your Steak+Greeksalad meal is ready.
Tuna Sandwich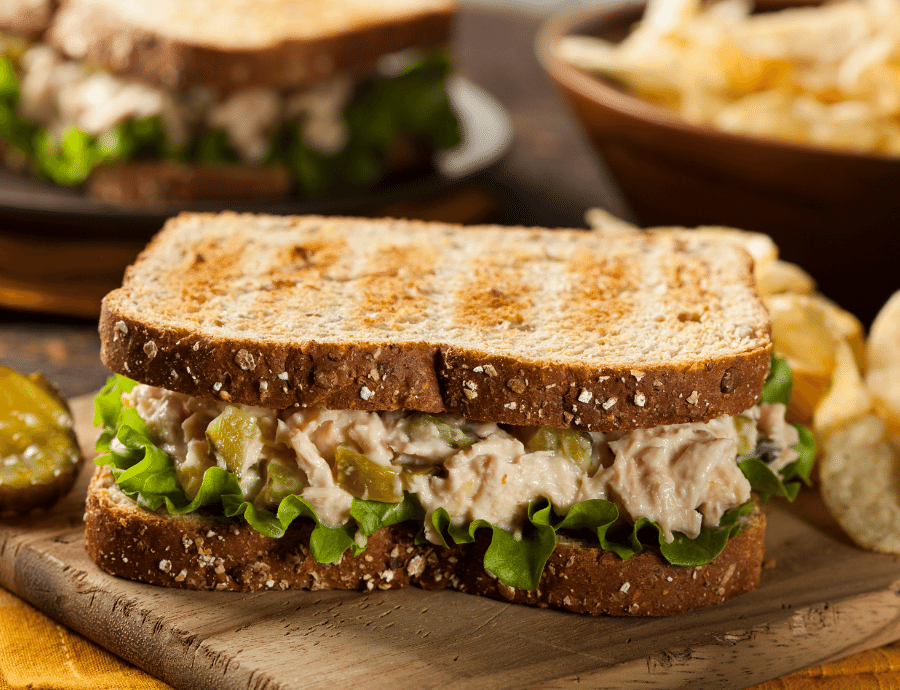 Ingredients
2 cans Tuna
2 slices bread
1/4 cup onion
1 tbsp mustard
1 tbsp chives
1/4 cup Cilantro
1 tbsp Light mayo
1 tbsp squeezed lemon
1/4 cup celery
Preparation
Chop 1/4 cup onion, 1/4 cup cilantro, 1/4 cup celery, and 1 tbsp chives, chop them all well and mix them.
Now open 2 cans of tuna and mix them all. Now add 1 tbsp light mayo, one tablespoon mustard, and 1 tbsp freshly squeezed lemon, and mix them all well.
Now apply it to bread and enjoy the meal.